IDENTITY
Identity of samples is proven based on processing data and appropriate spectroscopic experiments.
Structural and spectral information like UV, IR, NMR or MS can be provided on request for additional fee.
QUALITY GRADES
We offer two quality grades :
Quantitative Analytical Standards :
Wearing a GREEN LABEL, with code number ending with an « S »
They are determined with an absolute assay and suitable to quantitative testing.
Absolute assay is usually determined from chromatographic purity, less residual water, solvents and inorganic by-products.
Qualitative Reference Materials :
Wearing a RED LABEL, they have reasonably high purity for R&D experiments, identification purpose and qualitative testing (like HP-TLC footprint).
USAGE, SHELF LIFE, STORAGE AND RE-TESTING
Our reference substances are provided with long term storage condition and shelf-life in such condition. They are supposed to be single-use.
Our batches are regularly re-tested according to our stability studies to guarantee the specified and steady quality level.
Our phytochemical standards are to be used exclusively in professional laboratories by trained and qualified personnel. They are designed and documented to be used as analytical standards in botanicals or herbal products testing, or as markers in studying or tracking metabolism or biotransformation of plants and plant material. They are not suitable for any testing in living bodies, like clinical trials, toxicity studies, etc… See "Terms of sale" in "Sales Support" section for complete provision of use.
CERTIFICATE OF ANALYSIS (COA)
Our phytochemical reference materials are produced by batch, which Certificate of Analysis is available on our website, downloadable with access codes recorded on vial label and delivery notes :
product code
batch number
vial ID
Typical sample of Certificate of Analysis of "Quantitative Analytical Standard" grade reference substance is given below :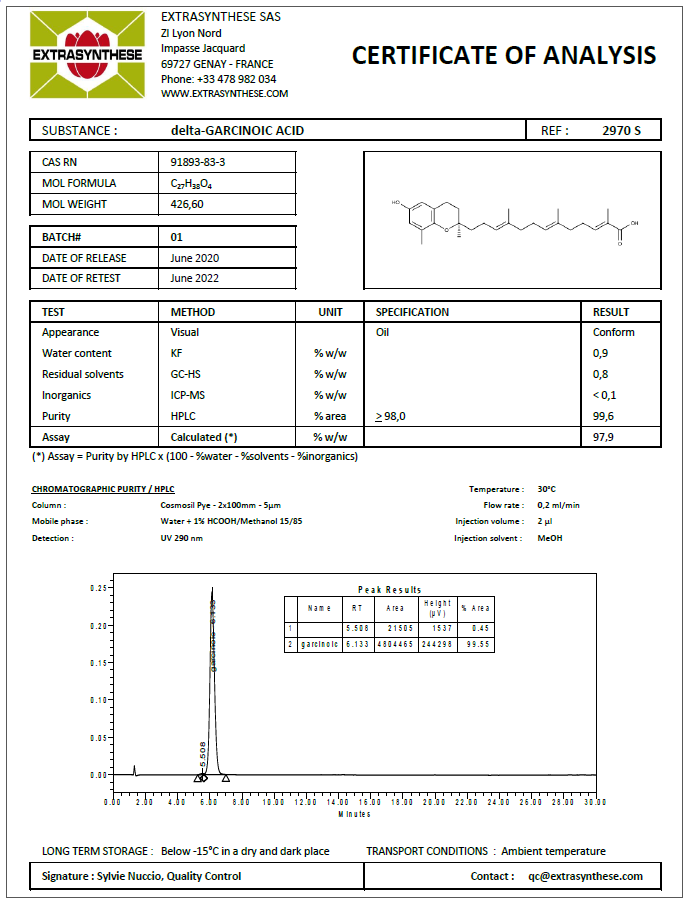 Sample of Certificate of Analysis